English, Hungarian, Hebrew, Malayalam
Distribution info:
Julianna Ugrin Éclipse Film julianna.ugrin@eclipsefilm.hu
The Indian town of Cochin has had an active Jewish community for 2,000 years. At the outset of making this film, only seven Jews remained, including 95-year-old Sarah Cohen, the director's adopted grandmother who inspires her to discover her own Eastern European identity. As Klára Trencsényi films the diminishing community that once happily coexisted with Muslims, Hindus, and Christians, she realizes that Sarah is keeping some secrets. The film documents an intimate journey between Europe and India, the experiences of discrimination, the search for identity, and the magical stories of the Jews of Cochin.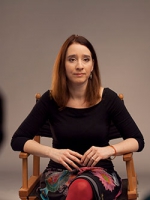 Klára Trencsényi is an award-winning freelance director and cinematographer committed to creative documentaries. She graduated from the Hungarian Film Academy in Budapest as DOP. Her last feature documentary, Train to Adulthood, won – among other prizes – the Golden Dove at DOK Leipzig. She leads courses on documentary filmmaking at CEU.