Writer:
Bernadette Wegenstein
Stefan Fauland
Cinematographer:
Shana Hagan
John Benam
Judith Benedikt
Sound:
Erich Hoffmann
Friedrich Trondl
Tong Zhang
Distribution info:
Cargo Film & Releasing Cailin McFadden cailin.cargoreleasing@gmail.com
Festivals and Awards:
Tribeca FF 2021 Official selection
The Conductor takes the audience into the heart of classical music, and the soul of one of its top artists—internationally renowned conductor Marin Alsop, the first female music director of the Baltimore Symphony Orchestra, the São Paulo Symphony Orchestra, and the Vienna Radio Symphony Orchestra. The film gives us an all-access pass to the artistry and energy that inspires her students and awes audiences around the globe.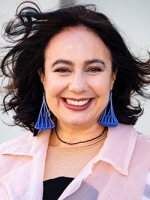 Bernadette Wegenstein is an Austrian-born linguist, author and critically acclaimed documentary filmmaker living in Baltimore. Her work brings together feminist thought and an interest in human-centric storytelling. She holds a PhD in linguistics and is currently a professor of media studies at John Hopkins University. She's directed four documentaries, including The Conductor, See You Soon Again, and The Good Breast.