Lithuania, Ukraine, Germany, France
In Memoriam: Mantas Kvedaravičius
Producer:
Uljana Kim
Mantas Kvedaravičius
Co-producer:
Anna Palenchuk
Nadia Turincev
Thanassis Karathanos
Cinematographer:
Vadym Ilkov
Mantas Kvedaravičius
Vyacheslav Tsvetkov
Production info:
Studio Uljana Kim, Extimacy Films, Twenty Twenty Vision, 435 Films
Festivals and Awards:
Berlin International Film Festival 2016 Amnesty International Film Prize Nominee
Hong Kong International Film Festival 2016 Golden Firebird Award Nominee
Lithuanian Film Awards 2016 Silver Crane
In Mantas Kvedaravičius's 2016 documentary on Mariupol, the seaside city seems calm, but the encroaching conflict between pro-Russian rebels and the Ukrainian government forces can be felt everywhere. A theatre ensemble rehearsing a Victory Day performance puts their hearts into their routines while hoping that their city will not be seized on opening night. A cobbler's daughter tries her hand at war reporting while her father discusses faith with his customers. Life goes on, accompanied by the tolling bells of the Orthodox Church and the squealing of the tram. Everyday life finds a rhythm of its own.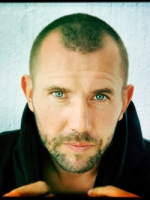 Mantas Kvedaravičius (1976–2022) was a Lithuanian-born filmmaker with a degree in social anthropology from Cambridge University. His first documentary film, Barzakh, was selected in numerous festivals and won several awards, including the Amnesty International Prize and the Ecumenical Jury Prize at the Berlinale in 2011. His two, subsequent films, Mariupolis (2016) and Parthenon (2019), were selected for the Berlinale and the Venice International Critics' Week, respectively. Mantas Kvedaravičius was killed by Russian Forces in late March 2022, in Mariupol, while documenting Russia's invasion of Ukrainian territory.