Student and Debut Competition
Producer:
Kristina Savutsina
Georg Kussmann
Sound:
Igor Bachmat
Roland Musolff
Ekin Horzum
Daniel Tielki
Khan's Flesh shows the choreography of everyday activities in a small Belarussian town. Citizens' bodies form and reproduce a system of norms, rules, and role models through mutual control, praise, and punishment. These interwoven social structures are observed and recontextualized through montage. The images' strict tableau-style reveals a routinized performativity of everyday life.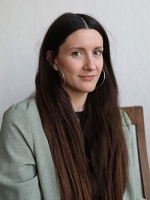 Kristina Savutsina was born in 1989, in Riga, into a Belarusian family. From 1993 to 2014 she lived in Belarus. In 2011, she graduated with a degree in cultural studies, in Minsk. Since 2015 she has been studying film and fine arts at the University of Fine Arts, Hamburg. In her work, Kristina deals with regulatory politics and its concrete manifestations in Belarus. She lives and works in Hamburg.