Ako som sa stala partizánkou
Student and Debut Competition
Festivals and Awards:
Ake Dikhea Festival of Romani Film 2021 Special Prize
Numerous stories from WWII remain hidden, and some might remain forever unknown. The fates of Roma partisans in the former Czechoslovakia is one such mosaic of hidden memories. While uncovering her family's partisan past, director Vera Lacková finds other forgotten Roma fighters. During her search she comes up against deep-rooted prejudice, indifference, and hatred towards the Roma community. She aims to undermine the misperception that Roma were merely victims of the war, and show Roma whose deeds deservedly form a part of European history.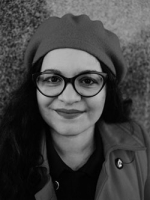 Vera Lacková is a Roma director and film producer. Born in Slovakia and based in Vienna, Austria, she is the founder of the Czech-Slovakian production company, Media Voice. Her background working with Roma people, sharing their stories and movements, enables her to bring a unique insider perspective on important and timely ethnic and political Roma themes for the community. A participant of the 2019 IDFA Academy, her feature-length documentary debut film, How I Became a Partisan, attempts to uncover the fate of forgotten Roma partisans. Her own search for and exposure of stories of Romani partisans is primarily based on the life of her great-grandfather, Ján Lacko. The film premiered at goEast Film Festival in Wiesbaden, in 2021. There she received the Federal Foreign Office for Cultural Diversity Award. The project was developed at the Ex Oriente film workshop, pitched at the 2020 East Doc Platform, and is part of the East Silver Caravan distribution program, supported by the Institute of Documentary Film.