Producer:
Alexandra Bratyshchenko
Mariia Ponomarova
Peter Kerekes
Cinematographer:
Leonid Burlaka
Igor Ivanko
Illia Yehorov
Distribution info:
Filmdelights Clementine Engler engler@filmdelights.com
Festivals and Awards:
DocAviv Film Festival 2022 Best International Film - Honorable Mention & Best International Film Nominee
Krakow Film Festival 2022 Golden Horn Nominee
The famous Soviet cinematographer, Leonid Burlaka, who once worked at Odessa Film Studios, is diagnosed with Alzheimer's disease. At the same time, his grandson, Ihor, a young Ukrainian cinematographer, accidentally stumbles upon a heavily damaged photo archive belonging to his grandfather. Ihor meets Leonid, a young Soviet cinematographer who established his career during the 'Khrushchev Thaw.' But time is running out; soon Leonid will not remember his own grandson.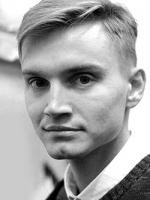 Igor Ivanko was born in 1992, in Odesa, Ukraine. In 2016 he graduated from the Karpenko-Karyi Kyiv National University of Theatre, Cinema and Television with a Master's of Cinematography Degree. Since 2014, Igor has collaborated with the BABYLON'13 documentary filmmakers collective as a cinematographer, filming Maidan protests and the Russo-Ukrainian war. Fragile Memory is his debut feature documentary film.