Student and Debut Competition
Producer:
Alexander Balashov
Karina Sharafutdinova
Cinematographer:
Vladislav Bakhanovich
Arseniy Kaidatsky
Distribution info:
Eastwood Agency Ekaterina Rusakovich ekaterina@eastwood.agency
Festivals and Awards:
Krakow Film Festival 2021 Golden Horn
Moscow Internation Film Festival 2021 Silver St. George Nominee
Viktor, a taxi driver from an Khabarovsk in the Russian Far East, decides he has arrived at a critical moment in his life. He starts a Youtube channel to expose cases of poverty and lack of rights, becoming a popular blogger followed by like-minded people. Viktor is sure that he must save his city and all of Russia, and sets off on a crucial journey of his life without realizing the chain of events this sets off.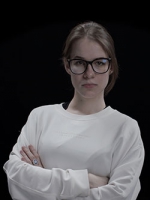 Born in 1995, in Moscow, Julia Sergina graduated from the Russian State University of Cinematography (VGIK), and the non-fiction film workshop of Sergei Miroshnichenko. Her film, Therapy, won the Laurel Branch award for best debut documentary. She is the Co-founder of the STAYA.DOC documentary film studio.