Producer:
Ágnes Horváth-Szabó
András Pires Muhi
Co-producer:
Mónika Mécs
András Juhász
Biljana Tutorov
Sound:
Tamás Bohács
SimonKoch
LeventeMarkos
Bence Somoskövi
Distribution info:
ELF Pictures Horváth-Szabó Ágnes agnes@elfpictures.hu
Festivals and Awards:
Sarajevo FF 2022 Official selection in the Documentary Competition
What goes on under the glistening, tanned skin of competitive female bodybuilders? The film explores bodybuilding with empathy and understanding, through portraits of four middle-aged women: Csonka, Yvette, Eszter, and Noemi. Each has a different approach to bodybuilding. They show us the parts of their lives normally hidden from the competition stage; who they are around their loved ones, when they are just themselves.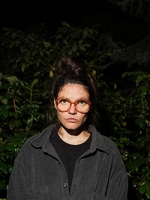 Anna Nemes is a painter. Her first feature documentary, Beauty of the Beast, premiered in June 2022, at Sheffield DocFest. Her second film, Gentle, was in competition at Sundance Film Festival in 2022.