Hungarian Panorama
Old Tunes in New Times
It has never been so hard to put together a Hungarian documentary film program as it is this year. While the issues worthy of filming are ever more numerous and the entire country is slowly becoming the potential subject of an endless documentary film, Hungarian filmmaking is heading for extinction – not the greatest problem by any means, but a big one for us. The once successful film industry has produced almost nothing during the past two years, and documentary filmmaking is now under the control of the politically biased pro-governmental media authorities… No need to elaborate further, you all know what I am talking about. It is a miracle that there are still some men and women who keep their eyes open and, defying all hardships, grab their cameras to record a slice of reality – for the sake of their children and grandchildren, as they can expect no other reward.
As this unusual situation breeds an unusual introduction, let me tell you an old-new story. In the chilly climate of the early 70s, two wonderful documentaries were made: Selection by Gyula Gazdag and The Resolution by Gyula Gazdag and Judit Ember. Both films focus on the lack of democracy, and the practice of putting incompetent communist party minions in positions where they are to decide in every area of life from rock music to farming, regardless of the damage it might cause. Neither of these very important films was released to the public, precisely because they gave too much of an insight into the essence of the regime. Then freedom came, the faded copies of these films were dusted off and this autumn they were released on DVD. However, on the orders of the former politician who is now director of the Hungarian National Digital Archives, the DVDs were soon withdrawn from the stores, the reason being that in the cover intro a famous Hungarian writer dared to mention the message of these works is still true today. Well, it is not or cannot be - so decided the afore-mentioned director, determined to silence criticism.
I know of no other occasion in the hundred-year history of film when a once-banned film was banned for the second time forty years later with the absurd argument that the times have changed.
Go and see documentaries – as long as you can and there are still films left to watch.
György Báron,
curator of the Hungarian program
Unless indicated otherwise, films are screened in original language with English and Hungarian subtitles.
Bosnia, Bosnia!
Péter Gábor Németh / 2012 / Hungary / 60 min / Hungarian & Bosnian (No English Subtitles)
After 17 years in a Hungarian psychiatric institute, the patients rescued
during the Bosnian War return home.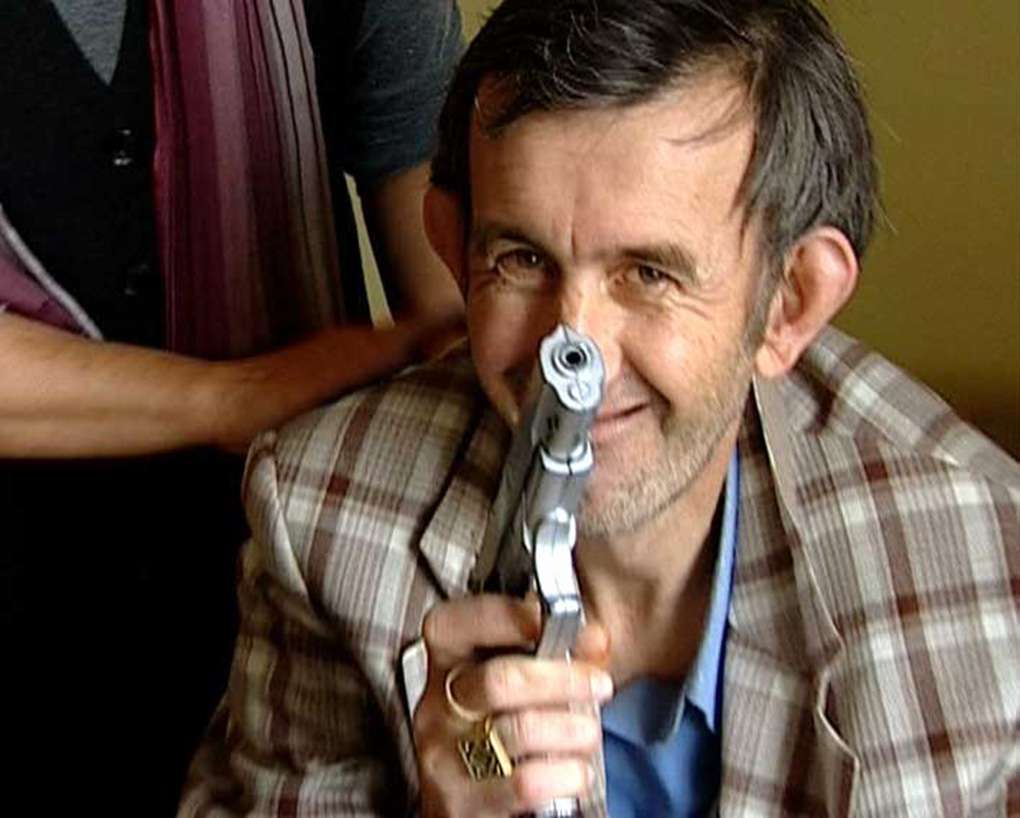 In 1992, patients from a local psychiatric institute in Bosnia were rescued from the war and brought to Hungary, where they stayed in a makeshift secure psychiatric unit in the country's biggest refugee camp. Since then they've been waiting impatiently to return home. For seventeen years their case seems to be stuck in the labyrinth of politics and bureaucracy. Finally, long after the end of hostilities, the two countries arrange for their return. Some of the asylum residents did not live long enough to see that day. Others are so weak that they risk their lives just making the journey. What kind of future awaits them in their homeland? The makers of the film follow the tragic and heartbreaking story of the last victims of a war that lasted from 2003 to 2011.
producer: Balázs Wizner
editor: Balázs Féjja
camera: Zoltán Lovasi, Aurél Kiss
sound: Ferenc Gerendai
music: Szabolcs Szőke, Krisztián Nagy
production info:
Metaforum Film Studio
Kalászi út. 50.
1039 Budapest, Hungary
info@metaforumfilm.hu
tel.: +36 70 434 82 54
selected filmography
Happily Ever After (2010) / Escapology (2009) / Terminus (2005) / Introducing Mr. Fekete - Portrait About Banker Mr. János Fekete (2004) / Candle Light (2003) / The Champion (2002)
GermanUnity@Balaton – Honeyland
Péter Forgács / 2011 / Hungary / 78 min / Hungarian & German (No English Subtitles)
Summers in the "happiest socialist barrack": recollections of Balaton in the 1970s and 80s.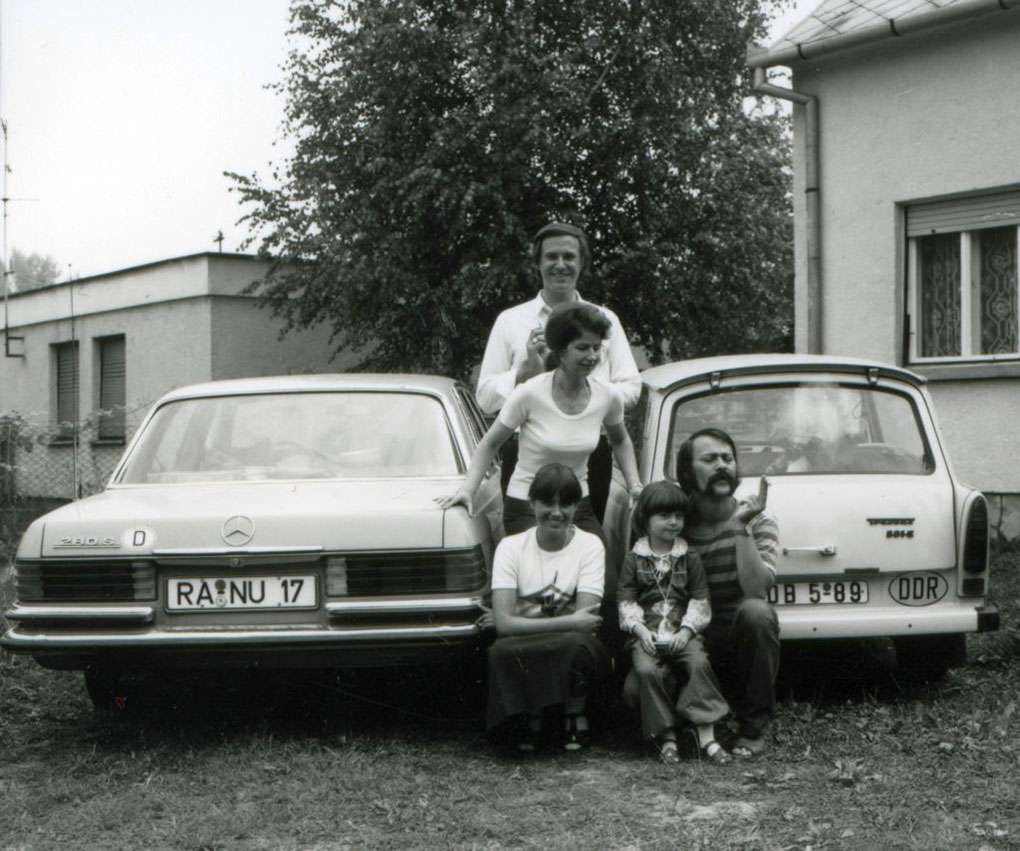 Home movies, interviews, photographs, and documents from East German and Hungarian secret police archives reconstruct the atmosphere of summers at Balaton in the late socialist period. East German tourists enjoyed coming to Balaton for more than its silky waters and sunny weather and not just because they could not travel anywhere else. It was a meeting place between the East and the West where divided families could enjoy Hungarian hospitality, even if they could not escape the surveillance of the East German Stasi and Hungarian secret agents.
producer: László Kántor, Cesar Messemaker
editor: Péter Sass
camera: Gusztáv Hámos
sound: Tamás Zányi
music: Mihály Víg, Károly Cserepes, János Másik, Illés
production info:
Új Budapest Filmstúdió
Donáti u. 59.
1015 Budapest, Hungary
ujbpfilm@ujbudapestfilmstudio.hu
tel.: +36 1 316 0943 (+(+36 1) 316-0943, (+36 1) 336-1009(+36 1) 316-0943, (+36 1) 336-100936 1) 316-0943, (+36 1) 336-1009
selected filmography
Hunky Blues - The American Dream (2009) / Own Death (2009) / I am Von Höfler (Variation on Werther) (2008) / Miss Universe 1929 - Lisl Goldarbeiter. A Queen in Wien (2006) / El Perro Negro: Stories from the Spanish Civil War (2005) / The Bishop's Garden (2002) / A Bibo Reader (2001) / Angelos' film (1998) / The Danube Exodus (1998) / The Maelsrom: A Family Chronicle (1997) / Kádár's Kiss (1997) / Class Lot (1997) / Free Fall (1996) / The Land of Nothing (1996) / Meanwhile Somewhere 1940-43... (1994) / The Notes of a Lady (1994) / Bourgeoisie Dictionary (1992) / Wittgenstein Tractatus (1992) / Photographed by László Dudás (1991) / D-FILM (1991) / The Diary of Mr. N.(1990) / Either – Or (1989) / Dusi & Jenő (1989) / The Bartos Family (1988)
Házgyár Street 1
Juli Börzsei, Péter Szabó / 2012 / Hungary / 30 min / Hungarian with English subtitles
Teddy bears, military uniforms and stuffed fish - eccentric collectors in a run-down block of flats.
This delapidated block of flats used to be a factory dormitory. Today it is inhabited by people who have no other place to go. Others try to avoid going near it, and the residents themselves wish they could have moved to a better place. Squatters, homeless people and hooligans have ruined the building. The media spotlighted it as a dangerous, run-down and dirty corner of the city. The film shows a different side of the notorious building, offering a rare chance to visit local residents, each of whom shares a very personal story.
producer: Juli Börzsei
editor: Péter Szabó
camera: Péter Szabó
sound: Péter Szabó, Juli Börzsei
production info:
Színház- és Filmművészeti Egyetem
Szentkirályi u. 32/b
1088 Budapest, Hungary
borzsei.juli@gmail.com
tel.: +36 30 581 1517
Hungarian Moustache
Nóra Lakos / 2012 / Hungary / 39 min / Hungarian (No English Subtitles)
In Hungary a moustache is more than just hair.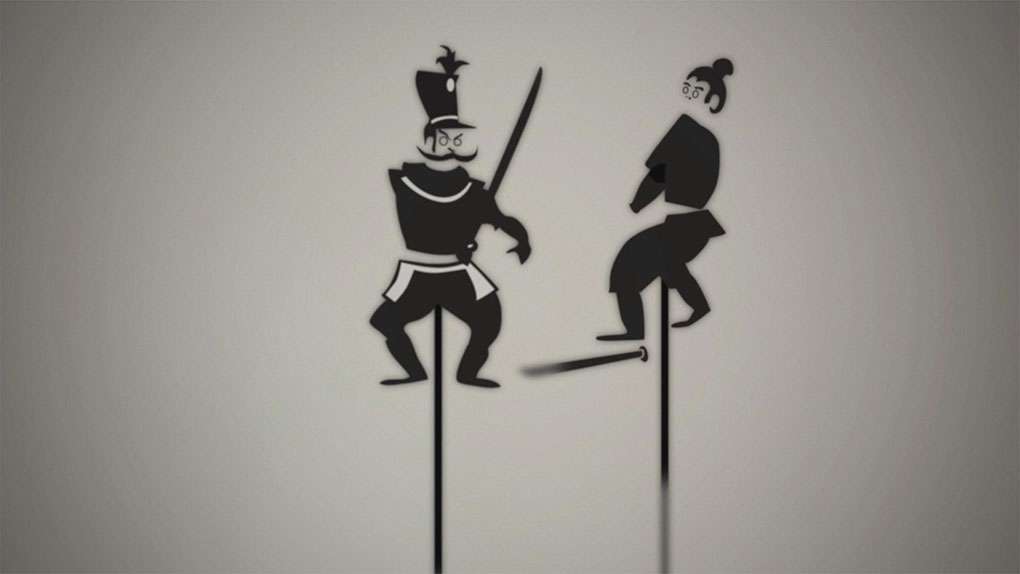 What does a moustache have to do with national identity? Quite a lot, some would say. The big bushy mustache appears as an official "Hungarian Moustache" category in the European Mustache Championship. The film focuses on a group of Hungarian men who see their moustache as a symbol of manhood and patriotism. Their only problem is that for the past ten years a German has won the Hungarian style category at the European Moustache Championship. The documentary presents the preparations of the Hungarian and German teams for the championships, revealing that while the German competitors consult stylists and master ways of waxing their moustaches, the Hungarians reject any moustache dressing as "not masculine" and go out and drink home-distilled palinka instead.
producer: Iván Angelusz, Gregor Streiber, Nóra Lakos, Péter Reich
editor: Béla Barsi
camera: Eszter Csepeli
sound: Dániel Bőhm
production info:
Katapult Film, Insel Film
Frankel Leó út 21-23.
1023 Budapest, Hungary
office@katapultfilm.hu
tel/fax.: +36 1 787 3558
selected filmography
Edina (2011) / Home (2009) / Hanna (2007) / Coming Soon (2006)
Rap Behind Bars
Bojána Papp / 2012 / Hungary / 52min / Hungarian with English subtitles
The first rap talent scout competition of the Juvenile Prison of Tököl, Hungary
"Sleezy stuff, you are a sleazo / See for yourself, you are a zero" – goes a juvenile rap song. The film follows the first rap talent competition in the Juvenile Prison in Tököl, Hungary. It shows the preparations, rehearsals, and the contest. How can a juvenile prisoner show his talent? Rap and hip-hop is a lively musical style in prisons worldwide, constituting a complex subculture with its own hierarchies, symbols, and slang. Rap is the language of prisons. How does it sound in Hungarian?
producer: Bojána Papp
editor: Bojána Papp
camera: Tamás Dobos, Marcell Gerő, Attila Csoboth
sound: Péter Benjámin Lukács, Gergely Máté Tóth
music: fiatalkorú fogvatartottak Tökölön
production info:
pbojana@gmail.com
selected filmography
Jules (2012) / Generation L (2006) / TV and Me (2004)
Rickshaw Rush
Gergő Somogyvári / 2012 / Hungary / 55 min / Hungarian & English with English subtitles
In search of money and freedom – Hungarian rickshaw taxi drivers working on the streets of Amsterdam.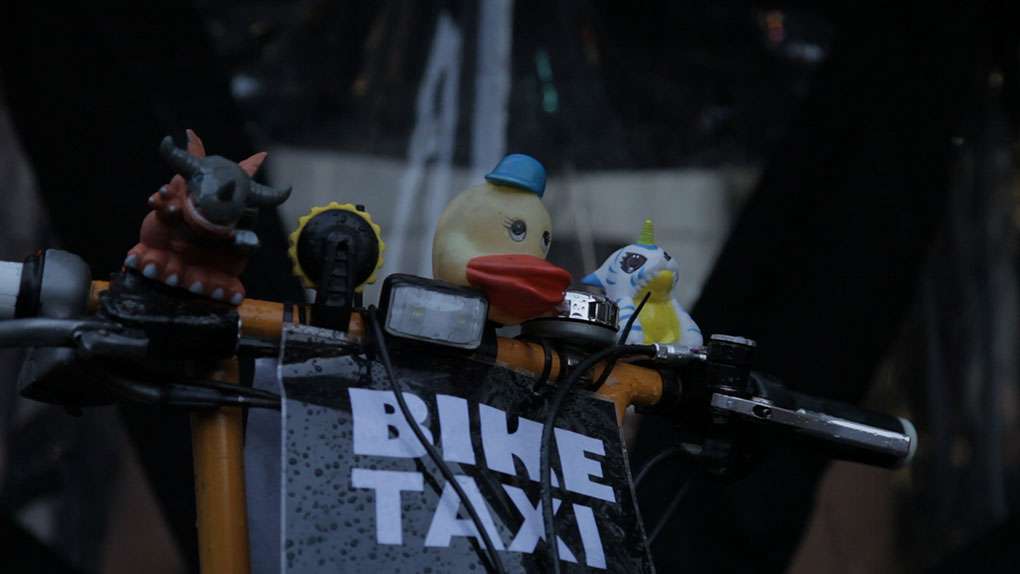 In recent years, Hungarian rickshaw taxi drivers have populated the streets of Amsterdam. For some it is a journey of self-discovery, for others the only way to provide for the family. Going after money and freedom, the new-age rickshaw drivers are tempted to start a new life, breaking away from the old home routines. Some make a decent living while others end up on the street, losing their last ties to family and relatives. This film is a sketch of East-West migration: a documentary about hope and disillusionment, riding and chilling, and about days and nights in the touristy city center. The director follows the protagonists through two eventful summers as they hunt for subsistence and adventure.
producer: György Durst
editor: Judit Feszt
camera: Gergő Somogyvári
sound: Rudolf Várhegyi
music: Tudósok, Pozvakowsky, Puszi Együttes
production info:
Kép-Árnyék Bt, Innerpiece Production, Diametrus Kft.
Kossuth u. 62.
1211 Budapest, Hungary
durstgy@gmail.com
tel.: + 36 1 489-1609 (+(+36 1) 316-0943, (+36 1) 336-1009(+36 1) 316-0943, (+36 1) 336-100936 1) 316-0943, (+36 1) 336-1009
selected filmography:
Yad Hanna – A kollektív ember (2009) / Tile Mail (2008) / Lanterna – Ahol a magány se jár (2007) / Zuhanás a környéken (2004) / Utasok (2003)
View From the Prison
Attila Kékesi / 2012 / Hungary / 52 min / Hungarian (No English Subtitles)
Crime, punishment, and repentance – male prisoners on their road to God.
Six inmates of the Vác Penitentiary reflect on how their lives went astray and what the future holds for them, as well as about how their thinking and understanding of crime and punishment were changed by the protestant chaplain of the prison. The protagonists of this film are all "tough guys" doing long sentences for crimes that today they themselves condemn.
producer: Attila Kékesi
editor: Attila Kékesi, Pap Levenete
camera: Attila Kékesi
sound: Attila Kékesi
music: Attila Kékesi
production info:
Arted Művészeti Stúdió Kft.
Bimbó út 216-226.
1026 Budapest, Hungary
arted@index.hu
tel.: +36 30 330 23 63
selected filmography
MOTALKO - The Chronicle of a Petrol Station (2010) / The Face of the Revolution (2006) / Peace be with you (2004) / Detour (2002) / Left out (2001) / Hajni (1994)