Iryna Tsilyk is a Ukrainian writer, poet and filmmaker. Her documentary The Earth Is Blue as an Orange (2020) bears witness to the life of a single mother with her four children, making a documentary of their own life. The situations created throughout filmmaking provide them with an opportunity to frame the unfathomable events unfolding around them.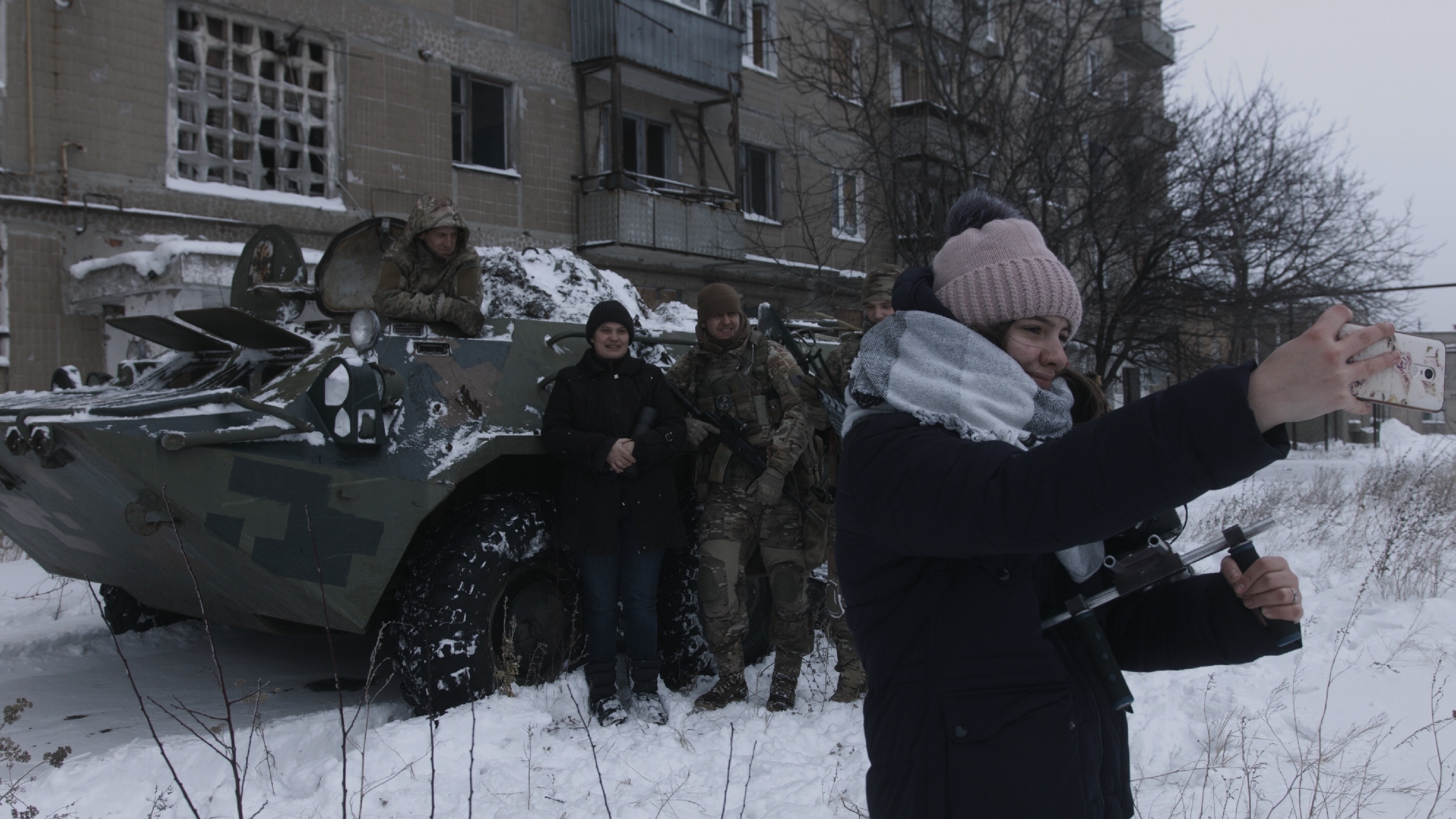 Photo: The Earth Is Blue as an Orange
The Earth Is Blue as an Orange received a special mention in Verzió's International Competition in 2020. You can read an interview with Iryna Tsylik, held after the outbreak of the war.
Alina Gorlova is a Ukrainian director and film editor who graduated from the Karpenko-Kary Kyiv National University of Theatre, Film and TV. Her films, This Rain Will Never Stop (2020) and No Obvious Signs (2018), were screened at Verzió (in 2021 and 2018). Both films display the long-lasting impact of war—the former through the story of a Syrian man living in Ukraine, the latter via the struggles of a woman with post-traumatic stress caused by the war.

Photo: No Obvious Signs
In 2018, Nine Month War by László Csuja, was screened as the opening film of Verzió. The film depicts the story of a Hungarian boy from Transcarpathia.

Photo: Nine Month War
In 2016, our program Focus on Ukraine highlighted Ukrainian society in film and those living their daily lives in the shadow of the war. The film selection included Vitaly Mansky's Close Relations, Mantas Kvedaravičius' Mariupolis, and Elena Volochine's Oleg Choice, as well as Ukrainian Sheriffs, whose director, Roman Bondarchuk, accompanied his film to its Hungarian premiere.

Photo: Ukrainian Sheriffs
Pit Nr. 8 (Marianna Kaat, 2010), presented at the festival in 2012, depicts the lives of young people growing up in a former Ukrainian mining town without any future whatsoever.
Roman Bondarchuk, film director, was a guest at Verzió in 2016. He is presently the artistic director of DocuDays UA Film Festival. He published an open letter referring to the war on the website Cineuropa.
Darya Bassel is a producer, collaborator of DocuDays UA. He was a Verzió guest in 2017, and participated in a panel discussion on the social impact of documentaries, organized within the program series Explore Impact, in the framework of Ukrainian DocuDays UA, Czech One World, Polish WatchDocs, Georgian CineDocs Tbilisi and Verzió. A February 2022 interview with Darya Bassel from The Wrap magazine is available here.
In 2014, the Ukrainian Documentary Festival was a guest at Verzió's Festival Crossroads program, during which Euromaidan. Rough Cut (2014) was screened in Művész and Toldi cinemas, to showcase the Ukrainian revolution through the lenses of young Ukrainian directors.
---
An open letter on the war by the Ukrainian Film Festival, DocuDays UA: https://docudays.ua/eng/2022/news/kino/about-the-outbreak-of-war-against-ukraine-and-the-postponement-of-the-festival/
DocuDays UA fundraiser for Ukrainian filmmakers: DOCU/HELP: Support for the Film Community in Ukraine! — Docudays UA International Human Rights Documentary Film Festival