This Rain Will Never Stop
This Rain Will Never Stop
Ukraine, Latvia, Germany, Qatar
Russian, Kurdish, Ukrainian, German, Arabic
International Competition
Co-producer:
Ilona Bičevska
Patrick Hamm
Writer:
Alina Gorlova
Maksym Nakonechnyi
Distribution info:
Square Eyes Wouter Jansen info@squareeyesfilm.com www.squareeyesfilm.com
After they fled the war in Syria, the Suleyman family was scattered across Europe. Lazgin lives with his family in Ukraine, but his brother Koshnhav is in Germany, while a third brother is in Kurdish Iraq, and a fourth remains in Syria. The film follows Lazgin's son Andriy who is a volunteer with the Red Cross and dealing with another military conflict, this time in Ukraine. Whether to escape the war or help relieve the suffering on site—such is the dilemma that Andriy struggles with during a visit to his brother in Germany and an emotional reunion with relatives in Iraq. After the sudden death of his father, Andriy decides to accompany the body back to Syria.
Ask your question from the Director!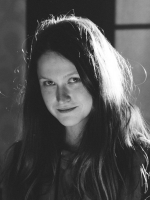 Alina Gorlova is a director and film editor. Born and raised in Ukraine, she graduated from Karpenko-Kary Kyiv National University of Theatre, Film & Television. In addition to her focus as a documentary director, Alina is experienced in making fictional shorts, and social and commercial ads.
Selected filmography:
2018 - No Obvious Signs
2017 - Invisible Battalion
2016 - Kholodny Yar. Intro