Hungarian Panorama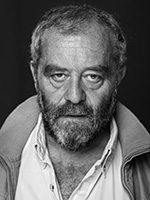 The Responsibility of Image-makers
At the end of the 1920's, when dark clouds were gathering on the European horizon, Julien Benda and later Mihály Babits wrote about the "betrayal of intellectuals." Almost a century has passed since; today's intellectuals are people with cameras. We gather information with the help of moving images, even this text is taking shape on a blue, flickering monitor: letters and words too became a part of image universe.
The bigger the danger, the bigger the responsibility of new intellectuals, the image-makers. This darkening fall hundreds of thousands of refugees are on the roads of Europe – families who left everything behind for survival, a hope for a dignified life and a future for their children. It is here that human kindness and human evil become more visible: helping hands on one side, hateful avengers on the other. Some have phones with built-in cameras, others are armed with the mighty arsenal of official media. One can only recall with bitterness that presently the most famous Hungarian "cameraman" is the woman who kicked a father and a small child as they were fleeing, embodying in the most graphic way the government propaganda calling for the protection of the country. The incident was recorded by another camera and thus was made public, saving, if that is at all possible, the reputation of the fellow image-makers.
It is thus obvious why, responding to these sensitive and urgent questions, Verzio Festival program this year has so many films dealing with the refugee crisis. And, as usual, it also includes stories of those marginalized and discriminated in our society, who are, temporarily, not the main official enemy this year. I would have liked to include more cheerful stories but I could not – and it is not by chance. For – as we learn from one of the films – even the vibrant party district of the city where cheerful Hungarians and tourists are drinking craft beer (just a few blocks away from the railway stations where refugees sleep on the concrete), harbors memories of hatred-fed mass killings. The men and women with cameras whose films you can see at Verzio – just like the intellectuals of old times – are the guardians of society's living memory. Without them only official campaigns and state TV images would be left behind for future generations, which would not be able to understand what is done to us and by us.
György Báron
Hungarian Panorama curator
Films in Toldi, Művész, Cirko-Gejzír and KINO are screened in original language with English subtitles.