Switzerland, Georgia, Germany
Producer:
Vadim Jendreyko
Erik Winker
Martin Roelly
Salomé Jashi
Cinematographer:
Goga Devdariani
Salomé Jashi
Production info:
Mira Film, CORSO Film, Sakdoc Film
Distribution info:
Syndicado FilmSales Jasmina Vignjevic admin@syndicado.com
Awards:
Docudays UA 2021 Main Prize
Cinéma du Réel 2021 Special Mention (Prix du Jury des Jeunes)
FICUNAM Festival Internacional de Cine UNAM 2021 Best Feature Film
EFA Documentary Film Award Nominee 2021
An enormous tree floats on a barge across the Black Sea, on its way to a privately-owned arboretum miles away. Other trees follow. With the removal of each century-old tree, tensions flare between workers and villagers. Some see the financial benefits, while others mourn the loss of an organic part of their community's collective memory. An ode to the rivalry between man and nature, Taming the Garden tells the story of a powerful man indulging in an unusual hobby, and captures the needs and values of modern Georgian society, where uprooting is more than a metaphor.
Ask your question from the Director!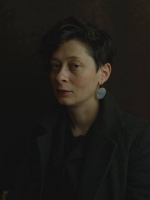 Salomé Jashi was born in Tbilisi, Georgia in 1981. She first studied journalism and worked as a reporter for several years. In 2005 she was awarded a British Council scholarship to study documentary filmmaking at Royal Holloway, University of London. Salomé's The Dazzling Light of Sunset (2016) was awarded the Main Prize at Visions du Réel's Regard Neuf Competition as well as at ZagrebDox, Jihlava IDFF, Valdivia IDFF, and several other festivals. Her earlier work, Bakhmaro (2011) received an Honorary Mention for a Young Documentary Talent at DOK Leipzig, and was awarded as the Best Central and Eastern European Documentary at Jihlava IDFF. Salomé is the founder of two production companies: Sakdoc Film and Microcosmos, both producing documentaries and fiction of high artistic quality. She was a fellow of Nipkow Scholarship in 2017 and of the DAAD Artists-in-Berlin Program in 2020. The Dazzling Light of Sunset screened at Verzió in 2019.
Selected filmography:
2016 - The Dazzling Light of Sunset