Denmark, France, Palestine
Parrhesia: The Moment of Truth
Producer:
Signe Byrge Sørensen
Lyana Saleh
Anne Köhncke
Production info:
Final Cut for Real, On Screen Off Record Productions, On Screen Off Record Palestine
Distribution info:
Final Cut for Real Maria Kristensen maria@final-cut.dk Alberte Nielsen alberte@final-cut.dk
Awards:
CPH:DOX 2021 CPH:DOX Award Honorable Mention
Dokufest 2021 Human Rights Award
Nearly ten years after the beginning of the Syrian revolution, three Syrian activists – Yadan, Odai and Rani – reunite on a stage in Paris. Through life-size projections onto a big screen, Syrian director Rami Farah confronts the three men with brutal footage, some of it their own, depicting the events that changed their lives forever. They reflect on their personal journeys, revive their collective memory, and wonder what is left of their hopes and dreams. Their reunion is a unique window into the complexity of the situation in Syria: how a peaceful uprising was replaced by a ferocious war.
Ask your question from the Director!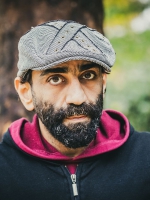 Rami Farah is a Syrian performer and filmmaker born in Damascus in 1980. He first studied dance in Damascus at the High Institute for Dramatic Arts and attended many training courses and workshops in contemporary film and dance in France and Denmark. After graduating from the Arab Institute in 2007, Rami made a 35-minute documentary about the Golan Heights entitled Silence. Rami's first feature-length film, A Comedian in a Syrian Tragedy premiered at IDFA in 2019.
Selected filmography:
2019 - A Comedian in a Syrian Tragedy