Producer:
Pasi Hakkio
Niina Virtanen
Distribution info:
Rise and Shine Anja Dziersk anja.dziersk@riseandshine-berlin.de http://www.riseandshine-berlin.de
Awards:
Locarno 2021 Premio Zonta Club Award
Hannele Korhonen has one ultimate passion: to be recognized as the best in her scientific field. Her life dramatically changes when she is awarded a 1.5 million USD research grant by the United Arab Emirates to participate in an ambitious project stimulating rainfall over a notoriously arid region. The opportunity sounds amazing, but Hennele gradually learns of the financiers agenda. Her enthusiasm morphs into an ethical dilemma and inner conflict. If she succeeds, whose clouds will she be stealing and what is the ultimate price of ambition?
Ask your question from the Director!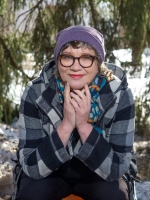 Tuija Halttunen is a Finnish documentary filmmaker who has worked in the film industry for over 20 years. Her documentary Neighbours was nominated for Prix Europa in 2013 and State of Mind got a state quality award in 2007. Halttunen's short documentary Heaven and Earth won the main prize in Tampere Film Festival in 1995. From 2010 to 2015, Halttunen worked as a regional artist in the Arts Promotion Centre Finland.
Selected filmography:
2015 - Side (documentary short)
2011 - Tabula Rasa (documentary short)