Katya I Vasya idut v shkolu
Parrhesia: The Moment of Truth
Writer:
Yulia Vishnevets
Olga Badina
Cinematographer:
Konstantin Salomatin
Darya Senicheva
Yulia Lantsova
Distribution info:
Antipode Sales & Distribution Evgeniya Chulkova festivals@antipode-sales.biz
Awards:
Krakow FF 2020 Special Mention in the Documentary Competition
Two fresh graduates from a university of pedagogy in Moscow move to a small Russian town to teach in a high school. They experiment with new, more interactive and collaborative ways of teaching, and challenge established conventions and hierarchies. They speak with their students about feminism, human rights and Russian politics. Despite the gradual, positive response from the children, the teachers soon discover that nationalism, sexism and homophobia stand in their way in this conservative school environment.
Ask your question from the Director!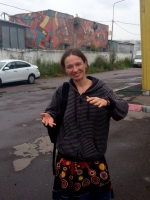 Yulia Vishnevets is a Moscow based filmmaker and journalist, with a passion for exploring society through documentary storytelling. She is a staff film director of Radio Free Europe/ Radio Liberty in Moscow. Her interests ranges from social exclusion to identities, conflicts and how people are affected by their surrounding environment. Her first full-length documentary film, A House on the Edge (2016), depicting both sides of the conflict in Ukraine, had a number of screenings in Russia, Germany and USA, including prominent Artdocfest festival in Moscow and was recently purchased for Currenttime.tv channel.