English, Irish/Northern-Irish
International Competition
Producer:
Frederik Nicolai
Eric Goossens
Co-producer:
Karl-Emil Rikardsen
Ljubo Zdjelarevic
Lukas Trimonis
Writer:
Annabel Verbeke
Frederik Nicolai
Distribution info:
OffWorld Frederik Nicolai frederik@offworld.be
Awards:
HotDocs 2021 Emerging International Filmmaker Award
The Carlingford ferry takes commuters over the hidden sea border between Northern Ireland and Ireland daily throughout the Brexit debate. Stay or remain, both options leave big question marks on the future. The film creates a kaleidoscopic of the commuters' thoughts and reflections as they rise to the surface during this short journey, asking how visible will this imaginary borderline eventually become?
Ask your question from the Director!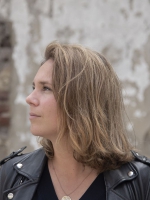 Annabel Verbeke, born in Ypres, Belgium, in 1987, graduated at RITCS Film School in Brussels. Her graduation film, Children of the Sea, won 8 international awards and was selected by more than 20 international film festivals. As a filmmaker, Annabel is looking for beauty in the modest, everyday objects surrounding us. She likes to reveal and unravel fascinating stories which are not always very visible, and find poetry and absurdity in seemingly banal things.