Producer:
João Matos
Vadim Jendreyko
Jérôme Blesson
Sound:
Daniel Almada
Elsa Ferreira
Production info:
Terratreme Filmes, Mira Film, La Belle Affaire
Distribution info:
Terratreme Filmes Pedro Peralta pedroperalta@terratreme.pt
Awards:
Caminhos do Cinema Português 2020 Best Editing & Best Sound
Capturing couples, friends, families, pets and their owners, Amor Fati seeks out the habits, beliefs, tastes and even physical traits that help these pairs complement and complete each other. The story of their bond is revealed through their interactions, their faces and the choreography of their gestures. Drawn from everyday life, the film portrays a chorus of affection and the collective memory of a country, evoking Aristophanes' speech in Plato's Symposium: "Do you desire to be wholly one; always day and night to be in one another's company? For if this is what you desire, I am ready to melt and fuse you together so being two you shall become one."
Ask your question from the Director!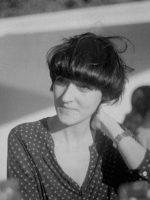 Cláudia Varejão was born in Porto and studied at the Creativity and Artistic Creation Program of Calouste Gulbenkian Foundation in partnership with the German Film und Fernsehakademie Berlin and the São Paulo International Film Academy. She also studied Photography at AR.CO in Lisbon. Cláudia's films have been selected and awarded by the most prestigious film festivals, including Locarno, Rotterdam, Visions du Réel, Cinema du Réel, Karlovy Vary, Art of the Real – Lincoln Center, among many others. Alongside her work as a director, Cláudia develops a career as a photographer and is a guest professor at AR.CO and the Catholic University of Porto.
Selected filmography:
2016 - Ama-San
2016 - No Escuro do Cinema Descalço os Sapatos