Student & Debut Competition
Distribution info:
Eastwood Agency Ekaterina Rusakovich assistant@eastwood.agency
Twenty-three-year-old Vitaly Akimov's family lives in the shrinking, provincial town of Arsenyev, Russia. Ten-year-old Stepan, his brother's stepson, serves as the film's guide to this grim environment, appropriately filmed in black and white. Stepan strums his guitar, fetches water, and plays with his younger half-brother. He also witnesses another side of life. Slightly embarrassed, he gingerly walks around his stepfather, passed out drunk, on the kitchen floor. Stepan talks cheerfully about the horrific events of his life and shares his deeper thoughts.
Ask your question from the Director!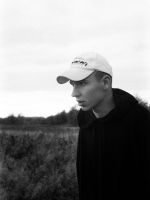 Vitaly Akimov was born in 1996, in the provincial town of Arseniev, in the Russian Far East. He is now based in Moscow. He believes that documentary cinema has the power through which we can observe the world.