Verzio Visual Laboratory /// November 9-11, 2011
The Visual Lab aims to advance viewers' visual literacy skills through readings and discussions from the forefront of thinking about how we watch. This year's Lab investigates the possibilities and opportunities for using documentary films to teach social and public policy at universities and high schools. The program will introduce participants to a range of films and readings, and offer a discussion platform with academics from different disciplines and backgrounds. Together, we will consider the strengths and weaknesses of recent documentary films in examining social problems.
November 9 /// 10am-3pm
Vlad Naumescu /// The Power of Images: Capturing the Social in Documentary Film
Oksana Sarkisova /// The Eye and the Other: subjectivity in documentary filmmaking
November 10 /// 10am-3pm
Thomas Lahusen /// The Interim Country and "academic filmmaking"
The Interim Country (A Film About Kyrgyzstan) / Vremennaia strana
Thomas Lahusen & Gulzat Egemberdieva & André Loersch / Canada & Kyrgyzstan / 2010 / 36 min / Kyrgyz & Russian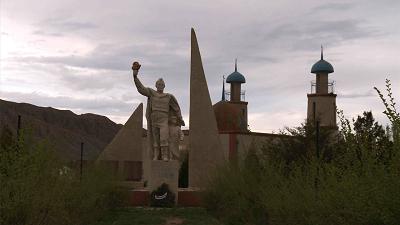 Shot in Spring and Summer of 2010 in Kyrgyzstan, the film chronicles the popular revolt that led to the toppling of president Bakiyev and his clan in April 2010, and the ever-deepening chaos into which the country plunged in its aftermath, culminating with the large-scale inter-ethnic violence in June 2010. Lacking power and legitimacy, and battling its own family network and clan-based divisions, the interim government has had a hard time to stabilize the country politically, economically, and socially. All this is documented through interviews with several top officials, former president Askar Akaev in his Moscow exile, and "people on the street." From Bishkek to the southern city of Osh, over the breath-taking highway uniting North and South through the Tian-Shan mountain range, Kyrgyz, Uzbeks, Russians, Meshketian Turks, and other ethnic minorities share their anger, frustrations, and hopes.
trailer
http://chemodanfilms.com/the-interim-country-trailer/
November 11
10am – 12pm
Elena Iarskaia-Smirnova, Pavel Romanov, Dmitry Dubrovsky /// Eyes On Films: Social Policy, Human Rights, and Documentary Cinema. Experiences of Teaching with Documentary Films in Russia
3pm – 4.30pm
Roundtable /// The Future of Documentary Cinema: New Media, New Possibilities
Organized by
Verzio FilmFest, OSA Archivum, Curriculum Resource Center at Central European University, Sociology and Anthropology Department, CEU, International Alternative Culture Center
Location
OSA Archivum, Arany Janos u. 32.
The program is free of charge and open to the public. Working language is English. Pre-registration required. To pre-register write to , subject 'Visual Lab'.