Film Opens Eyes
Movies that Matter (www.moviesthatmatter.nl) exhibits films that draw our attention to human rights and situations in which these are at stake. The foundation is based in Amsterdam and is an initiative of the Dutch section of Amnesty International. Movies that Matter's peak activity of the year is the annual Movies that Matter Festival (www.moviesthatmatterfestival.nl), an international human rights film and debate festival that takes place at the end of March in The Hague. The festival features two main programs; A Matter of ACT, a documentary film competition that pays tribute to brave activists who defend human rights on the frontline, while Camera Justitia deals with international justice and the worldwide struggle against impunity.
Along with the festival, Movies that Matter runs a number of other projects including the National film and debate programme in which every month, film theatres in ten Dutch cities host an impressive and eye-opening feature film or documentary. At the International Documentary Film Festival Amsterdam (IDFA), Movies that Matter hosts a thematic afternoon in which human rights documentaries take center stage. Movies that Matter assists schools in the screening of human rights films, the biggest education event however is the All Rights Film Festival. As part of the International Programme, Movies that Matter promotes film screenings in Africa, Asia, Latin America and Eastern Europe and gives financial support and advice on how to organize screenings and festivals, for film screenings are a powerful instrument to further the dialogue on human rights, freedom and justice.
At VERZIO Movies that Matter presents prominent films from its 2010 festival: Last Train Home by Lixin Fan, the winner of the best feature — length documentary of IDFA, 2009; The Sari Soldiers by Julie Bridgham, featuring the Nepalese human rights defender Mandira Sharma, who received the Human Rights Watch Award in both 2006 and 2007; and Shout by Esther Gould and Sabine Lubbe Bakker, screened at the National film and debate program throughout The Netherlands in November, 2010.
Eye-opening films and people with ideals... Movies that Matter brings them together.
Adrienn Lukács
Movies that Matter Festival program coordinator
Festival Crossroads
Last Train Home
Lixin Fan / Canada & China / 2009 / 91'
One family's annual tormenting journey along with 200 other million peasant workers to reunite with their distant family across China for New Year celebrations. Best Documentary Feature at IDFA 2009.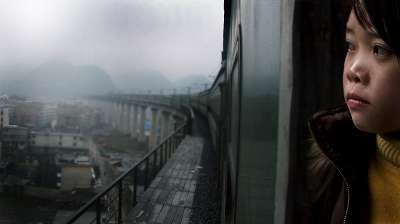 Every spring, China's cities are plunged into chaos, as all at once, a tidal wave of humanity attempts to return home by train. It is the Chinese New Year. The wave is made up of millions of migrant factory workers. The homes they seek are the rural villages and families they left behind to find work in the booming coastal cities. It is an epic spectacle that tells us much about China, a country discarding traditional ways as it hurtles towards modernity and global economic dominance. Last Train Home draws us into the fractured lives of a single migrant family caught up in this desperate annual migration. Sixteen years ago, the Zhangs abandoned their young children to find work in the city, consoled by the hope that their wages would lift their children into a better life. Yet in an act of teenage rebellion, their daughter drops out of school to become a migrant worker — the very trait her parents wanted her to escape. The film follows the Zhangs' attempts to change their daughter's course and repair their ruptured family whose fate mirrors the experience of millions of others who pay a great price for China's headlong economic development.
producers: Daniel Cross, Mila Aung-Thwin
editor: Mary Stephens, Lixin Fan
camera: Shaoguang Sun, Lixin Fan
sound: Liming Fan
music: Olivier Alary
production info:
EyeSteelFilm
4475 St. Laurent, #202
Montreal Quebec, H2W 1Z8
tel.: +1 514 937 4893
info@eyesteelfilm.com
www.eyesteelfilm.com

Sari Soldiers
Julie Bridgham / Nepal & USA / 2008 / 92'
Six women on opposing sides of the conflict in the midst of the King's crackdown on civil liberties in Nepal — a Maoist commander, A Royal Nepal Army officer, a monarchist, a human rights lawyer, and a pro-democracy activist. Nepal's future in the making.
Filmed over three years during the most historic and pivotal period of Nepal's modern history, Sari Soldiers is an extraordinary story of six women's courageous efforts to shape Nepal's future in the midst of an escalating civil war against Maoist insurgents, and the King's crackdown on civil liberties. When Devi, mother of a 15-year-old girl, witnesses her niece being tortured and murdered by the Royal Nepal Army, she speaks publicly about the atrocities. The army abducts her daughter in retaliation, and Devi embarks on a three-year struggle to uncover her daughter's fate and see justice done. The film follows Devi and five other brave women, including Maoist Commander Kranti; Royal Nepal Army Officer Rajani; Krishna, a monarchist from a rural community who leads a rebellion against the Maoists; Mandira, a human rights lawyer; and Ram Kumari, a young student activist organizing the protests to reclaim democracy. Sari Soldiers intimately delves into the extraordinary journey of these women on opposing sides of the conflict, through the democratic revolution that reshapes the country's future.
producers: Julie Bridgham, Ramyata Limbu
editor: Mona Davis
camera: Julie Bridgham, Dinesh Deokota, Kumar Shrestha
music: Christopher James Thomas, Manose Newa
production info:
Butter Lamp Films, LLC
sarisoldiers@yahoo.com
www.sarisoldiers.com
http://sarisoldiers.com/
Shout
Sabine Lubbe Bakker & Ester Gould / The Netherlands / 2009 / 74'
Two best friends, Ezat and Bayan, born in Golan Heights set out to study in Syria — across the UN-monitored no man's land, knowing they won't be able to return for the next year. A film about longing and belonging in one of the world's most persistent conflict zones.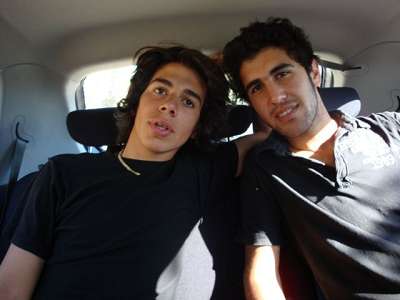 Best friends Ezat and Bayan are about to make the journey they have planned since they were children. Born on the Israeli-occupied Golan Heights, they have lived all of their lives right next to the closed border with their homeland Syria. Now eighteen, they're given the opportunity to cross the UN-monitored no-man's land to study in Damascus. Feeling young, invincible and a hundred percent Syrian, they say goodbye to their village and families, knowing they won't be able to return for the next year. Like young people all over the world, Ezat and Bayan are pursuing their dreams and ambitions, and in Damascus they enjoy their new freedom. But the city also proves to be an anonymous place, where it's not easy to feel at home and where you have to watch what you say. What started as an adventure turns into a dilemma that forces them to choose between the future they always dreamt of and the secure environment they left behind.
producer: Pieter van Huystee
editor: Barbara Hin
camera: Gregor Meerman
sound: Tim van Peppen
production info:
PvH film
Noordermarkt 37—39
1015 NA Amsterdam
tel.: +31 20 421 0606
info@pvhfilm.nl
www.pvhfilm.nl
filmography:
ESTER GOULD
Sick of it All (2008) / Adreline (2005)