Janko Baljak graduated from the Faculty of Drama Arts - Department of Film and TV Directing, in Belgrade. One of the founders of the film and TV production department of the independent radio station B92 which produced a great number of his documentary films. The films were successfully presented at domestic and foreign film festivals and won a number of important awards. Among his films are Absolute Hearing (1988), A Long Life of the Kos Couple (1990), Once Upon a Time in Serbia (1991), See You in the Obituary (1995) - Grand Prix and FIPRESCI Award, 42nd Yugoslav Documentary and Short Film Festival, Ethnically Clean (1998) - Award for the Best Documentary at the 45th Documentary and Short Film Festival, Anatomy of Pain (2000) - Grand Prix and FIPRESCI Award, 47th Yugoslav Documentary and Short Film Festival, The Dead are Killing - Anatomy of Pain 2 (2001) - the best documentary film at the 48th Documentary and Short Film Festival, Yugend in der Twilight Zone (2001), Serbia in a Container (2003).

Eric Bergkraut was born in 1957 in Paris, France. 1961 Moved to Switzerland. Studied acting at the Theatre Academy of Zurich. Worked as actor in theater, film and television. Since 1988 writes reports for the weekly supplement to the NZZ. Since 1991 freelance work and numerous reports for German Swiss Broadcasting Service (SF DRS). He is made the following documentaries: Oggi siamo tutti un po' bene (1991), Göschenen, drei Minuten Aufenthalt (1992), Eine Reise in den Tod (1996), Das gute Leben ist nur eine Falle (1997), Kontinent K. (1998), Die 6. Klasse - 18 Schüler aus 13 Nationen (1999), Pinkas Braun, Gesichter eines Spielers (2002), Sprenge Deine Grenzen (2002), Der fliegende Abt (2003), Coca - Die Taube aus Tschetschenien (2005).
Astrid Bussink was born in Eibergen in 1975. She studied several disciplines at the Academy of fine Arts, AKI in Enschede. She graduated with a project consisting of an art magazine and organisation 'Het Ei'. Besides her studies she was active in several art organisations and the local radio. After her studies she was involved in the fireworks explosions of Enschede and had to flee her burning house. This experience and the aftermath of the disaster she closely followed and documented. This is where her fascination for documentaries developed. She moved to Amsterdam and for several years worked as a picture editor for the glossy business magazine Quote. She studied the technical aspects of filmmaking at Open Studio in Amsterdam and consequently did a Masters in Film at the ECA. During this master she worked together with the Budapest Filmschool (ZSFE) to shoot her first documentary The Angelmakers, which was premiered at IDFA where it won the 'First Appearance' award.
Joakim Demmer was born in 1965 and grew up in Stockholm/Sweden. After studying Photography, he began working as a freelance photographer in Stockholm, Prague and London. In 1991, he returned to Stockholm to work as both a director of photography and film editor. He then worked as a photographer, editor and co-director in Norway, Russia, and Bosnia, followed by studies at the German Academy of Film & Television (dffb) in Berlin from 1995-2001. His films include: the shorts Flieger (1998), Kita (1999), Vergehen (1999), Unborn (2000), Play-Off (2001), Zehn Argumente Gegen Gelb (2002), and his graduation film Tarifa Traffic (2003).
Johanna Morselt was born in the Netherlands in 1968. Joan has a master in Theater, Film and Television Studies from the University of Utrecht, The Netherlands. After working as the FORUM producer from 1995 until 1998, Joan Morselt worked for several years for a number of producers and directors, and two years for sales agent Fortissimo Films. Joan Morselt was the project manager of the European AV Conference in Utrecht, which was organised on the ocassion of the Dutch Presidency of the EU in 2004. At the end of 2004 Joan moved to Switzerland for a year to join First Hand Films as Sales Agent. During this time she also acted as a consultant for producers and directors on International co production and financing. After her return to the Netherlands in 2006 she now works for IDFA again, where she is responsible for the organisation of lectures and industry meetings. She also leads the new office of First Hand Films in Amsterdam, focusing on Sales and Acquisition in the American, Canadian and South American market.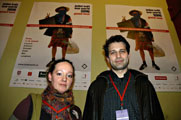 Lučian Muntean comes from Cluj-Napoca, Romania. He studied film photography at the Bucharest University for Film and Theatre. He received a degree as Director of Photography in 2000. Since 2000, he has been working as director of photography for Apollo TV in Novi Sad, Serbia and also as freelance director and cinematographer for TV networks in Romania. In 2005, he made his first documentary film Punam. On this film project he worked together with Nataša Stanković.
Nataša Stanković graduated from University of Art, Department of Photography and Video in Bucharest in 2001. In 2001, she was awarded "Best Animated Film Award" at the International Film Festival in Bucharest, Romania. In 2002, she received a scholarship in BENETTON's communication research and development center for young creative people - FABRICA (Video department). Currently, she is studying photography at University of Arts in Belgrade. In 2005, she produced and edited her first documentary film Punam in cooperation with Lučian Muntean.
Peter Nestler was born in 1937 in Freiburg, Germany. Before he turned to filmmaking, he had tried himself as printer, mariner, lumberman, and factory worker. He studied painting at the Academy of Fine Arts in Munich and learned various printing techniques in a printhouse in Stuttgart. In 1959, still a student, he played a sailor role in Harald Reinl's blockbaster Paradies der Matrosen (1960/61). Later he acted in Helmut Käutner's Schwarzer Kies and Axel von Ambesser's Eine hübscher als die andere (1961). In 1961/62 he makes his first short documentary Am Siel together with photographer Kurt Ulrich, who later also took part in the making of Aufsätze (1963) and Ödenwaldstetten (1964). In cooperation with Reinald Schnell he produced Mülheim/Ruhr (1964). These deliberately-distanced films, which mixed contemporary recordings with historical photos and footage, were repeatedly attacked as caricatures. After Von Griechenland (1965), which was pronounced to be a "communist botch," Nester received no further commissions from German TV. In December 1966 he emigrated to Sweden. In 1967 he makes his first film for Swedish TV I Ruhromradet on the class struggle in the Ruhr area. He continues making films on actual and historical problems, including neo-Nazism in the FRG (Far de komma igen?, 1971), the Vietnam war and its aftermath (Bilder fran Vietnam, 1972), political repressions in Latin America (Victor Jaras barn, 1982), and the experiences of the Spanish Civil War (Spanien!, 1973). Since 1980s, Nestler works as commissioner and director at Swidish TV, he also makes documentaries for German television (WDR/3Sat). His filmography includes over 50 documentary films. Peter Nestler is one of the most prominent documentary filmmakers in Europe.

Hanna Polak is director, cinematographer, and photographer. She was born in 1967 in Katowice. In 1989-1991 she studied acting and theatre at the Acting School in Wrocław and Warsaw. In 2002, she began her studies in the cinematography division of The Cinematography School of Moscow. She has been involved in charitable activities in Russia since 1995. In 1997, she founded and later collaborated with Active Child Aid to help the underprivileged children of Russia (www.rcws.org, www.activechildaid.org). In 2004, she completed work on her first short film, Al which opened first at the Documentary Film Festival in Cracow, Poland. Her film The Children of Leningradsky was Oscar nominee in 2005 in Documentary Short category.